Biography - Adam H. Fulton
ADAM H. FULTON. Forty years seems, in considering the history of the development of some countries, a mere speck of time, but in this Western World, since railroads have been reaching out their grasping fingers in every direction and carrying along their line an infusion of vigorous life, it is not astonishing that as much should have been done in so short a time, as has taken ages to evolve in the Old World. It is a truism that we are the heirs of all the ages, and that fact should make us modest instead of boastful.

Our subject first saw the light of day a little over forty years ago upon the place where he at this time resides, his natal day being June 10, 1851. These forty years of life spent in Rural Township have not been without avail, for his early efforts have been crowned with success, and he is now a large and prominent farmer of Shelby County, residing on section 13, of Rural Township. He is a son of Adam and Elizabeth (Hill) Fulton, natives of County Antrim, Ireland. They were married in their native land, and in 1849 came to the United States. Adam Fulton, our subject's father, entered land from the Government in Rural and Ridge Townships, but he died in the winter of 1851 or 1852.

The original of our sketch being the only child and an infant of but six months old at the time of his father's death, he was not of much assistance to his mother for some time after her bereavement. She lived until March, 1890, when she died at the age of seventy-seven years. The father of our subject was the only member of his family to leave the native land for the United states, but on his mother's side he has an uncle living in Shelbyville, whose name is George B. Hill. Our subject was reared on a farm and early learned the duties of a farmer's lad. His education was attained at the common schools, and there he was fitted for the practical relations of life. He continues to reside on the homestead and has not yet made up his mind to surrender his bachelor freedom and enter the benedictine ranks.

Mr. Fulton is the owner of a section of land and also thirty acres in Ridge Township. Upon these he has erected good buildings, and the houses and barns on each are attractive and commodious structures. He devotes himself principally to the raising of grain and has found this generally to be a most lucrative business. The father of our subject was forty-seven years of age the time of his death. He came to the United States some years prior to 1849, and was a merchant at Cincinnati, and also kept a country store in the village of Henton, Shelby County. He returned to Ireland, during which visit home he was married, and in 1849 broughl his bride to the United States. They were good, substantial citizens and associated with the best element wherever they lived. In their religious preference they were attendants upon and members of the Presbyterian Church.

Like his parents, our subject is a member of the Presbyterian Church. Politically he affiliates with the Republican party and has held several of the minor local offices in the gift of his party. He is one of the substantial business men of the county, and besides the land he owns here, he is also the owner two hundred acres in Flat Branch Township, one hundred and sixty of which was entered by his father and is known as "Bald Knob." As do all these places, this boasts of a good class of improvements.

On another page of this volume the reader will find a view of Mr. Fulton's homestead.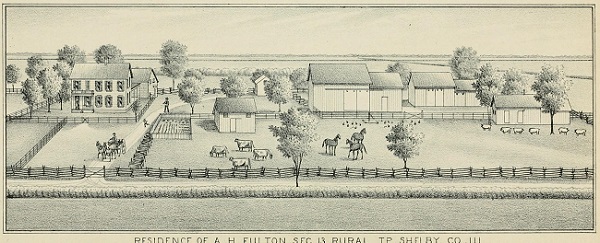 Extracted 16 Feb 2019 by Norma Hass from 1891 Portrait and Biographical Record of Shelby and Moultrie Counties Illinois, pages 593-594.