Families

Do you have a Family Group Sheet or Descendents Chart for a Shelby county ancestor? Please consider submiting a copy for posting here with a link to your email address.
Ancestors and related families of AUSTINs of New Hampshire, Vermont, Ohio, Illinois, and Iowa
Research of REED families in Shelby and Fayette Counties 1820 - 1870 word.docx compiled by Meri Arnett-Kremian Meri@familytreeclimber.com
Descendants Charts
Family Group Sheets
Robert D. BROWN Family
My parents were born by old Mode Fancher area.
Robert Dale BROWN Sr born 02 Sep 1906
Mae Lavone (MILLER) BROWN born 16 Feb 1912
I have a lot of family buried at Union Cemetery - Brown, Chushman, Miller.
I think my great-grandfather, James Franklin BROWN, was a preacher and carpenter. He might have helped build the church and the old school.
Contributed 14 May 2020 by Robert Brown Jr bobbrown12340@yahoo.com
CUSHMAN Family Photo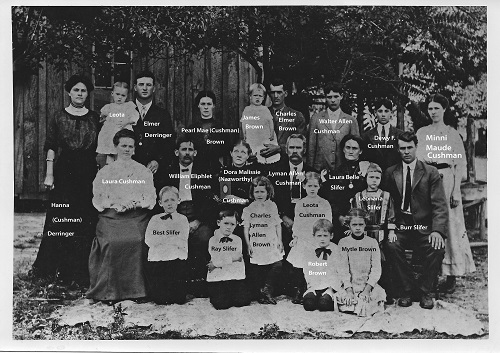 Photo is also available to view in pdf format with additional notes included.
Contributed 27 Oct 2017 by Preston Brown preslee4847@yahoo.com
Ray Lower MCGREW
I've recovered an old photograph identified as Ray L. MCGREW who was 17 years old in 1896. The photograph was taken at the Johnson Studio in Kansas City, MO. Based on limited research I was able to locate the following information regarding Ray and his family:
Ray Lower MCGREW was b. 2 May 1879 in Oconee, IL to parents Milford Milton Marion MCGREW (1843-1903) and Sarah Elizabeth LOWER (1848-1915). Ray was one of four children born to this couple including, Cora Lower; Jessie R.; Ray Lower; and Joseph MCGREW, all born between 1873 and 1888. Ray married Tonia J. (b. 1884) and they had a daughter, Janis A. MCGREW (b. 1913). Ray died 6 Mar 1961 in Los Angeles, CA and is buried in the Live Oak Memorial Park in Monrovia, CA.
I'm hoping to locate someone from his family so that the photograph can be returned to their care. If you are a member of this family or you know someone who might be, please contact me. Thanks, Shelley Cardiel shelleyrcardiel@gmail.com 11 May 2021
John S. TURLEY Family
My fourth times great-grandfather was John Squires TURLEY. He was an Illinois state representative in 1836 and 1837 then again in 1844 and 1845. His wife's name has always been listed as just E. He and his wife both were born 1800, both of them in Tennessee. He had a daughter born in Alabama, Morgan County, in 1821; her name was Eliza. Then my third great-grandfather, James H. was born in Alabama in 1824. Then a daughter, Jane M., 1826, Alabama. Then a son, William McClellan, was born in 1831, in Alabama. They moved to Shelby County, Illinois, and had another daughter, Amanda R., born in 1833, Illinois; another son, John, born 1837, Illinois; then another daughter named only E. born in Illinois 1839. Then they moved to Texas around 1847, and that's the last we heard of them in the 1850 census, in Texas. My third time grandfather James H. moved to Paola, Kansas, around 1858.
Contributed 15 Sep 2019 by Margaret Johnston
I also found his signature on one of Abraham Lincoln's petitions to the Illinois Representatives. It is on the right hand side the seventh signature down. The link to the website is papersofabrahamlincoln.Org/documents/D206847
Contributed 04 Oct 2019 by Margaret Johnston