Welcome !
Shelby County ILGenWeb is a free genealogical site about the history of the county. We hope you find helpful clues for your research of ancestors and relatives of the county.
Are you familiar with the area? Do you have a family tree connection to the area? Volunteers are always needed! Please consider contributing your pieces of Shelby County family history. Corrections, updates, and additions to this site are always welcome. If you are interested in helping, please contact the ILGenWeb State Coordinator.
County Coordinator: YOU? Shelby County ILGenWeb is AVAILABLE FOR ADOPTION.
County Formation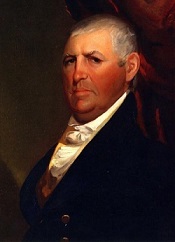 Shelby county was created January 23, 1827, securing the large northern part of Fayette County. It wasn't long (1829) before big areas were lost to Macon and Tazewell counties. Then, in 1839, Christian county claimed a bit. In 1843, a small portion was claimed by Moultrie county, finalizing Shelby counties boundries.
Shelby county was named in honor of Isaac Shelby, a soldier of the Revolution and Indian wars. He commanded the Kentucky troops in the battle of Thames in the War of 1812.