Biography - Herman Green
HERMAN GREEN. In the full flush and vigor of manhood this gentleman came from his early Ohio home to this county and allied himself with its farmers by purchasing a farm in Penn Township. He soon acquired an excellent reputation as an industrious, sensible, methodical agriculturist, and was conducting his farming operations with a good degree of success, when death removed him from his sphere of usefulness in April, 1885, thus depriving his fellow-citizens of a valuable co-worker.

Mr. Green was born in Geauga County, Ohio, March 18, 1853. His father, Alonzo Green, was a farmer and is now a resident of Grand Junction, Iowa. The maiden name of the mother of our subject was Eliza Patton. She died when her son of whom we write was an infant, and he was reared by his aunt, Mrs. Ladow, in his native county. He was carefully trained under good home influences and gained a sound education in the public schools of Ohio. His early life was spent on a farm, and he began when quite young to acquire a practical experience of farming that was of service to him when he began his career as an independent farmer. He lived with his aunt until his marriage and then bought a farm in Geauga County. He was actively engaged in its management until 1883, when he sold it at a good price in order to take up his residence in this county, as he wisely considered that on this fertile soil that had not been worn by generations of cultivation the prospects for rapid advancement in his chosen calling were of a most encouraging character.

On coining here our subject bought the farm in Penn Township now occupied by his widow. He devoted his energies to its further improvement, but scarcely more than a year had elapsed after his settlement here when death stayed his hand, and his life-record was brought to a close when but thirty-two years of age. It may be that it has been taken up in a fairer land, where he has "entered upon broader fields of action and duty, where nobler struggles shall tax the strength and more precious crowns award the victor, where the hopes and dreams of earth shall he turned to sight, and the broken circles of life be rounded to the perfect orb."

The marriage of Mr. Green to Miss Amarett Pelton was solemnized October 1, 1874, and in her helpfulness, loving counsel, and devotion to his interests, he found how much a faithful wife has to do with a man's success in life. Mrs. Green is a native of the same county in Ohio where her husband was born. She is a daughter of Storrs Gustavus Pelton, who was born in one of the pioneer homes of Trumbull County, Ohio. His father, Elias Pelton, a native of New England, was one of the early settlers of that section of Ohio, and cleared a farm from the primeval forests on which he lived until he passed from life to death. Mrs. Green's father learned the trade of a carpenter in his youth and became a good mechanic in that line. He resided in his native county until a short time after his marriage, when he went to Geauga County, and buying a farm in Russell Township, devoted himself to farming during the remainder of his active life. He is now living in retirement in the same township with a daughter. He was bereft of the companionship of his beloved wife in 1860, her death occurring during their residence on the farm. Her maiden name was Lydia Bailey. She was a native of Trumbull County, a daughter of Ido Bailey, and the mother of nine children.

Mrs. Green was but six years old when her mother died and after that she lived with an older sister until she married our subject. After his death she cheerfully took up the burden that her husband laid down, and has nobly fulfilled her duty. In her management of her farming interests she has displayed exceptional ability, and shows what a woman can do when cast on her own resources. She has a fine farm with well-tilled fields, and amply provided with neat and well-kept buildings, everything about the place wearing an air of thrift, good order and solid comfort, that betoken extra care and denote a substantial home. A view of this place may he found on another page. Mrs. Green is prized by her neighbors and the community at large, not only as a woman of exceeding capability and business acumen, but for her pleasant social qualities. She is a useful member of the Methodist Episcopal Church, and is a veritable Christian. She has two daughters, Gertrude E. and Maud A., whom she is carefully training to a true womanhood and who bid fair to follow in the footsteps of their mother.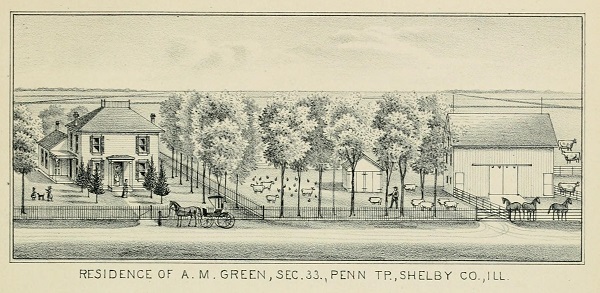 Extracted 16 Feb 2019 by Norma Hass from 1891 Portrait and Biographical Record of Shelby and Moultrie Counties Illinois, pages 612-615.