Biography - James Hogarth
JAMES HOGARTH, a prosperous farmer and stock-raiser of Penn Township, was born in Yorkshire, England, July 5, 1839. His father, who bore the same name as himself, was a native of the same country, his birthplace being Westmoreland, and he in turn was the son of another James Hogarth, who was a farmer, native of Lancastershire, and a life-long resident of England. The father of our subject was reared on a farm and followed agricultural pursuits in Yorkshire, where he spent his last years. He married Elizabeth Birtle, whose whole life was passed in Yorkshire. She was the mother of two children, our subject and Isabella, her daughter spending her entire life in England.

Our subject was left an orphan when only ten years old. As soon as large enough he began work on the farm and early gained a practical insight into the best methods of carrying on farming. While attending school he learned a great deal about the United States of America, a subject which had a great interest for him, and in pursuance of a determination to try life in this great and growing country, he embarked at Liverpool in 1860, on the steamer "Washington City," and after a voyage of eleven days landed at Castle Garden, New York. He came directly to Shelby County, arriving here with about $15 in his pocket, which scant capital was supplemented by a courageous heart, a cool head and steady hand, and willingness to do whatsoever he found to do with the capacity of doing it well. He began life here by working on a farm by the month, continuing that employment until his marriage, when he located on the farm in Penn Township, that he has since occupied. At that time the place was but very little improved, but since it came into his hands he has wrought a wonderous change by persistent and well directed labor. The land is now under a high state of cultivation, the neat and substantial buildings comparing with any in the township, and fruit, shade and ornamental trees, planted by his own hand, add greatly to the attractiveness of the place. The reader will be pleased to notice a view of this homestead on another page.

In 1867, Mr. Hogarth took unto himself a wife in the person of Mrs. Margaret (Shimman) Birkett, a native of Cumberland, England. Mrs. Hogarth's father, Philip Shimman, was reared on the Isle of Man, and thence he removed to Cumberland, where he lived for many years. In 1857 he came to America with Mrs. Hogarth. He visited a short time in Cleveland, Ohio, and then went to Clinton in the same State, to see a daughter, and died in her home ten weeks after landing in this country. His wife died in England in 1851. She was the mother of six children, of whom these three came to the United States — Mrs. Hogarth, her sister Mary and brother Thomas.

The wife of our subject grew to womanhood in her native shire, and was first married there to John Birkett. He was a native of that part of England, and resided there until 1857. In that year. August 7. he set sail from Liverpool on the vessel "American Union," accompanied by his wife and her father, and landed in New York after a voyage of six weeks and five days. He and his wife lived in Ohio from is 1857 to 1860, then they came to Todd's Point Township, this county, which at that time was but sparsely settled and little improved, with plenty of land for sale at $5 or less an acre. Mr. Birkett's means were limited, and he began life in his new home on rented land. In the spring of 1864 he bought a tract of railway land in Penn Township, and at once commenced to improve a farm. But he was not destined to finish his work, as death cut short his career in the fall of that year, and his township lost a useful citizen.

Mr. and Mrs. Hogarth are people of most estimable character, worthy in every way of the good will and respect of their neighbors, which is accorded to them in full measure. They are both members of the Presbyterian Church. In national politics Mr. Hogarth votes the Republican ticket, but in local affairs he is independent, giving his support to the best man regardless of party.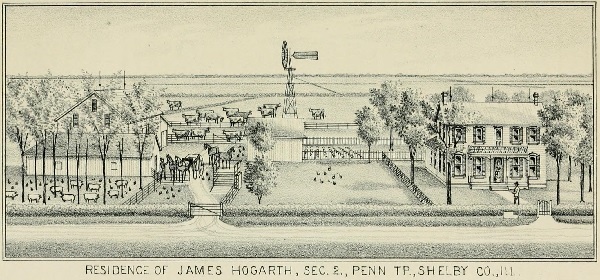 Extracted 16 Feb 2019 by Norma Hass from 1891 Portrait and Biographical Record of Shelby and Moultrie Counties Illinois, pages 590-593.